Ferry Schedules
Manhattan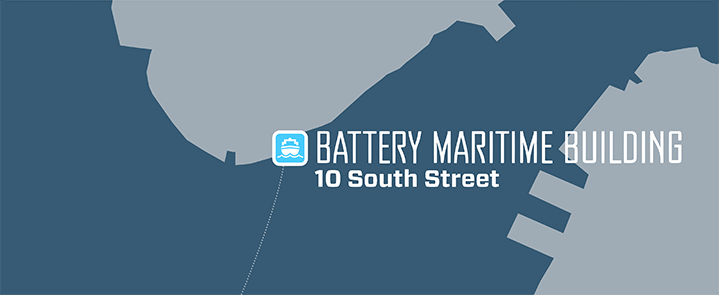 Monday-Friday
From Manhattan
From Governors Island
10:00am
11:00am
12:00pm
1:00pm
2:00pm
3:00pm
3:45pm
4:15pm
10:30am
11:30am
12:30pm
1:30pm
2:30pm
3:30pm
4:00pm
4:30pm
5:00pm
6:00pm
Friday Evenings (May 24 - Aug 30)
From Manhattan
From Governors Island
4:45pm
5:30pm
6:30pm
7:30pm
8:30pm
7:00pm
8:00pm
9:00pm
10:00pm
Saturday-Sunday
From Manhattan
From Governors Island
10:00am
11:00am
11:30am
12:00pm
12:30pm
1:00pm
1:30pm
2:00pm
2:30pm
3:00pm
3:30pm
4:00pm
4:30pm
5:00pm
5:30pm
10:30am
11:30am
12:00pm
12:30pm
1:00pm
1:30pm
2:00pm
2:30pm
3:00pm
3:30pm
4:00pm
4:30pm
5:00pm
5:30pm
6:00pm
6:30pm
7:00pm
Saturday Evenings (May 25 - Sept 1)
From Manhattan
From Governors Island
Battery Maritime Building
10 South Street
Subway
South Ferry
Bowling Green
Whitehall Street
Bus
M15, M20, M55
Brooklyn
Monday-Friday
No ferries to Governors Island from Brooklyn on weekdays
Saturday-Sunday
From Brooklyn
From Governors Island
11:00am
11:30am
12:15pm
1:00pm
1:45pm
2:30pm
3:15pm
4:00pm
4:45pm
5:30pm
11:15am
12:00pm
12:45pm
1:30pm
2:15pm
3:00pm
3:45pm
4:30pm
5:15pm
6:00pm
6:30pm
7:00pm
Pier 6
Atlantic Avenue and Brooklyn Bridge Park Greenway
Subway
Borough Hall
Court Street
Bus
B61, B63
Fares
Round Trip

Adults and children 12 and over

$3

Round Trip

Senior citizens

$1

Children under 12

Free

IDNYC holders

Free

Military personnel (former and active)

Free

Governors Island members

Free
Free Rides
Passengers ride free on Saturdays and Sundays before noon.
---
There is no surcharge for bicycles at any time. Space for bikes and strollers is limited, and they will be allowed on each ferry on a first-come, first-served basis.
All ferries are wheelchair accessible.
Purchasing Tickets
Tickets for Governors Island ferries can be most easily purchased in person during ferry hours at the ticket booths at Battery Maritime Building in Manhattan and Pier 6 in Brooklyn. There are often lines to board, so you should plan to arrive 10-15 minutes before your planned departure.
Group Visits
Groups of 20 or more people visiting Governors Island together, including adults and children, are requested to register their visit. Email us at groupvisits@govisland.org to register.
NYC Ferry to Governors Island
Please note that weekend NYC Ferry service between Governors Island and Pier 11/Wall Street will begin May 25, 2019. For more information visit ferry.nyc.